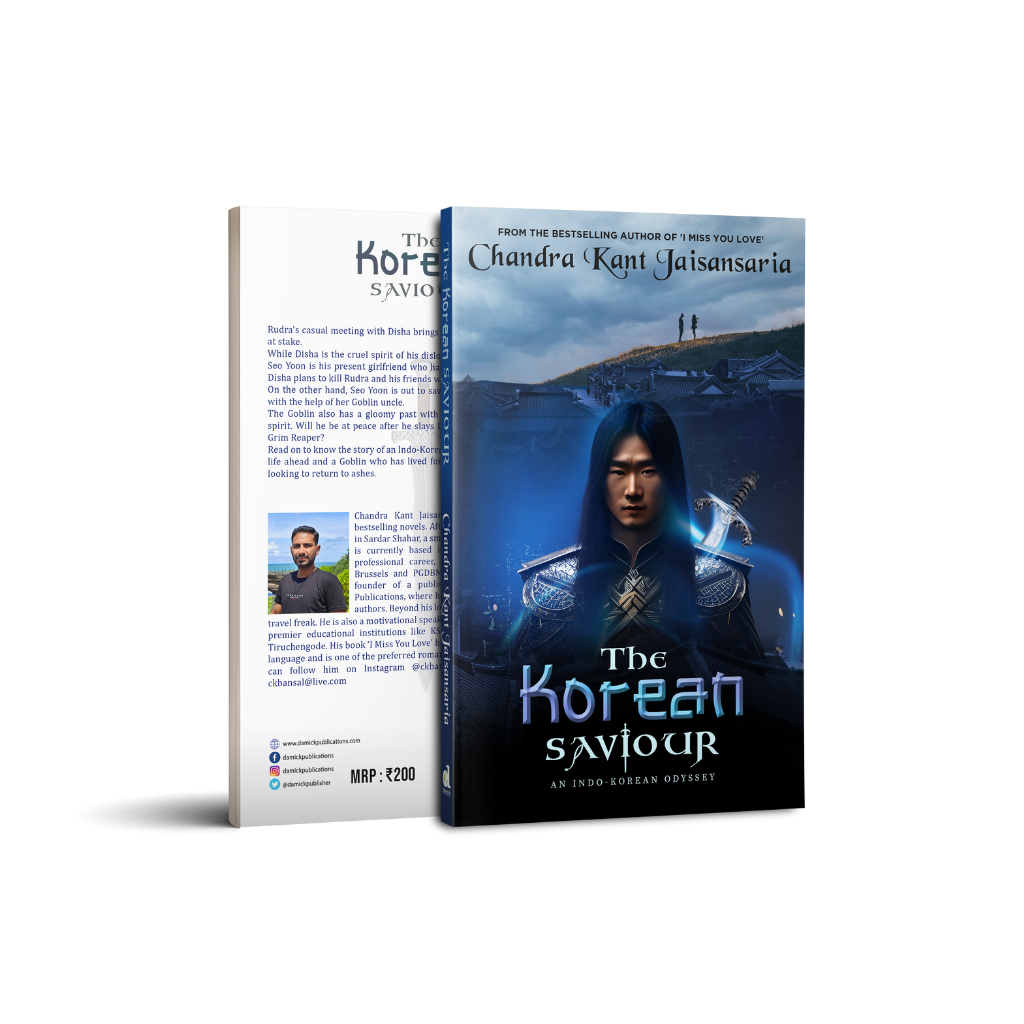 One
23 September 2019, 18:55 IST (Moon Light Café & Bar, Kasol)
"To the true love."
"To the true love." The couple wished and gulped their 13th peg of red wine. Unlike others this couple was special. Rudra, an Indian boy, and Kim Seo Yoon, a South Korean girl were truly and madly in love with each other.
Rudra was a rich brat with nothing to lose. He looked smart with his long curly hair that suited perfectly to his short-trimmed beard. His habit of always being neatly dressed made him look more appealing. The thing that Seo Yoon liked about Rudra was his eyes. Despite carrying a manly body, his eyes were notorious and curious like that of a child. Seo Yoon once said that Rudra's eyes carry a shine that made her fall for him.
Even Seo Yoon was different in her own way. She had a fair complexioned face, pitch-black long hair, and tiny cute eyes like other Korean girls, but the special thing about her was her bubbly nature. She still behaved like a kid that had plenty of things to learn and ample dreams to fulfill.
Visiting a café like this was routine for them. After each tiring day, they considered their evenings were meant to enjoy.
"Hey! Rudra. Hey! Yoon." A girl who was a regular visitor to the café greeted the couple while moving towards the dance floor.
"Hi! Tanya," The couple replied lowering their voice as they saw Tanya moving away from them.
"Guys, I guess this is enough for the day. You should go home now." The bartender suggested the couple.
"Oh! Common Daniel, we are just celebrating our togetherness. It's not even dark yet," Rudra replied.
"Yeah! I know that, but you have had more than your regular dose of wine today. And…"
"Shhh…" The bartender was about to complete when Seo Yoon asked him to keep quiet.
The bartender gave an ignoring look and moved with a tray of Israeli beer canes to the customers waiting at the table.
"Don't you think sometimes he pretends to be too caring?" Seo Yoon looked at Rudra and expected him to reply.
Rudra shrugged and moved his eyes around the café. It was his usual behaviour. He often replied with his expressions rather than words.
"You know what? You should learn to choose words and limit the expressions." The short-tempered Seo Yoon frowned at his behaviour.
"Yeah! But I don't think Daniel is an important person to speak about." Rudra replied giving an impish look.
"Great. So, before we start our daily melodrama fight, I should take my leave." Seo Yoon responded furiously getting frustrated by Rudra's cold replies.
"Sure. Have a good night then." Rudra replied in no mood to start the fight in public.
Seo Yoon grabbed her tote bag, kept some money on the table for bartender Daniel to take, and moved out of the Café without even looking at Rudra.
Rudra glued his eyes on the main door of the café and smiled. He has been mischievous and a little careless about Seo Yoon. This is because they have had ample fights every evening and the next day, they were together like 'nothing happened yesterday'.
The Moon Light Café's bartender Daniel had become more than a friend to the couple as they were daily visitors to his table. Being a friend, he always cared about them and prevented them from making a scene in public.
"She left already," Daniel asked Rudra taking the money that was kept on the table.
"Looks like…" Rudra ignored the question and took another peg of wine.
"One beer please…" A girl in her mid-twenties settled on the chair next to Rudra's.
"Sure" Daniel moved towards the freezer in order to fetch the beer.
Rudra looked at the girl and wondered where she was from. She wore a royal blue coloured deep neck top paired with some strange locket around her neck. Her red lipstick complimented the fair complexion of her face. Her dark brown hair ran from her head to her neck and touched her thighs. She looked as if she belonged to a royal family from the historical kingdoms. The only difference was she was in the attire that was from the present.
Rudra was about to move his eyes toward his wine glass when the girl uttered "Wondering where I have come from, stranger?"
Rudra couldn't react and his mouth went wide open. "Um… Uh… I Uh…"
"It's okay stranger. Say cheers to your companion today." She raised her beer cane and Rudra raised his wine glass to touch hers.
"Well. I have come from Kangra." The girl said looking into Rudra's eyes.
"How do you know what I was thinking? I mean, do you read minds?" Rudra asked getting surprised.
"Not exactly, but my guesses are almost always bang on." The girl chuckled.
"Seriously. You scared the shit out of me." Rudra tried to be friendly.
"I will someday." The girl looked into his eyes and said in a serious tone.
Rudra kept quiet and wondered about what should be his next line.
"Hey! Chill. I joke seriously sometimes." The girl laughed again and extended her hand toward Rudra "This is Disha and you?" she inquired.
"Well. I… I am Rudra." Rudra uttered with a handshake. "I am a localite here." He smiled thinking this is the end of the conversation.
"Ow. It's nice to meet you, Rudra." She replied extending her smile. "By the way, I am a lone wanderer. I often visit a lot of new and interesting places to explore nature." Disha continued her conversation.
"That's great. Even I settled here because of my love for travelling. I often visit a lot of hill stations on weekends and enjoy my weekdays here in the bar." Rudra uttered getting excited to meet a like-minded person.
"Wow. That's so cool Rudra. What's your next destination?" She was curious.
"We are planning a trip to Dalhousie and Khajjiar in the coming week." Rudra shared the information.
"Khajjiar, the mini-Switzerland of India," Disha confirmed.
"Of course. It is. Have you been to…?" Rudra inquired.
"Yes. Yes. Last month I have been to Dalhousie and Khajjiar. Believe me, man, it's really an amazing place to be at." She replied with a smile on her face.
"That's great. What's next then?" Rudra asked.
"Bus Stand." She replied.
"What?" Rudra tried to understand.
"The Bus Stand. Kasol Bus Stand. I have to leave for Kangra tonight." She looked at her wristwatch and wondered if she would find a bus leaving for Kangra.
"If you don't mind, may I accompany you to the bus stand?" Rudra asked getting excited to spend some more time with Disha.
"Sure. I won't mind that." She smiled.
Two
20:00 IST (Main Market Road, Kasol)
Rudra and Disha were walking on the road. The sky was filled with dense clouds, lightning and thunder, but it hardly mattered to the duo as it was a usual thing to happen at such hill stations.
"So, you said you settled here in Kasol because of your love for travelling. Originally, which place do you belong to?" Disha asked to start the conversation.
"I am basically from Delhi. I came to Kasol three years back and I chose to live here for a long while." Rudra replied.
"Um-Hmn, that's interesting," Disha uttered. "Have you ever been to Kangra?" She asked.
"Nope. I haven't." Rudra kept it short.
"You should. It's a wonderful place." She suggested.
"Sure. Very soon." Rudra smiled staring at her face.
"Uh… Maybe we have reached the bus stand." She directed her index finger towards the bus stand.
"Oh. Yes. We have." Rudra replied. "I didn't realize it because it was a very short walk." He looked at Disha and smiled.
"Sometimes, such short walks can give you the best of your memories." She smiled back and settled on one of the seats kept near the ticket counter.
"Well, I agree," Rudra replied settling beside Disha and wondering if this was the end of their meeting.
"When does the last bus to Kangra leave from here?" She interrupted Rudra's thoughts.
"Last bus?" Rudra looked at Disha in surprise. "I guess somebody has misguided you. There is no direct bus from Kasol to Kangra." He informed.
"Oh. Common Rudra, don't try to crack a joke here. Tell me…" She asked again.
"I am serious. I thought someone is going to pick you up from here, so I accompanied you. It is an overnight journey from here to Kangra and there are no direct buses to this route." Rudra replied.
"Shit." She uttered getting worried. "So that means I am stuck here for tonight." She looked at Rudra and confirmed.
"Well. You will have to stay in a hotel room tonight and you can leave at the dawn. I will get you a cab in the morning." Rudra suggested feeling a little joyous as their meeting just got extended.
"Hmm. What else can I do?" She stood up and took a deep breath. "Can you help me find a good hotel because the one that I checked out in the morning is literally not worth another night's stay?" She asked for a favour.
"That's not a problem. One of my friends owns a hotel which is just 2 kilometres away from here. Let's get you settled there for tonight." Rudra stood up, and they were about to leave when all of a sudden, the clouds started showering. "Well, looks like we'll have to wait here a little longer." Rudra looked at Disha and grinned.
"But why? We can walk in the rain and reach the hotel." Disha peeped out of the overhead shed willingly to get drenched.
Rudra held her hand and pulled her back. "Don't be a kid. I am sure you don't want to wake up with a high fever in the morning." Rudra said not realising that Disha had slipped her leg and fallen into his arms already. "Uh. I uh. I am so sorry… I just wanted to prevent you from getting wet. You might catch a cold due to this heavy rain." He continued feeling embarrassed and helped Disha get back on her feet.
Disha smiled and kept looking into Rudra's eyes. She wondered what Rudra was thinking at that particular point in time. Rudra on the other hand was feeling a little nervous and he wondered if he had committed a mistake. Subconsciously, he liked the way Disha was in his arms but apparently, he had to show that it was not at all his fault. "I think we should sit down until it stops raining," Rudra said breaking the silence.
Disha sat on the seat and looked at the rain. After a moment of silence, she said "I often wish to get drenched in the rain. To feel the cold breeze and the warmth of…" she paused.
"And the warmth of someone who can complete you." Rudra completed the sentence.
"Amazing," Disha said getting impressed with Rudra's fill-in-the-blanks. "You know what? I feel like you are my type." She continued and again paused.
"I didn't get you," Rudra said.
"The way you checked me out in the Café was something that a gentleman would never do." Disha kept her hand on Rudra's thigh.
"I…" Rudra was about to speak when Disha interrupted "Shh… I know you like alcohol, night outs, and…" she paused to play with Rudra getting a little close to him.
"And…?" Rudra wanted her to continue.
"And No Strings Attached." She smiled and looked straight into his eyes. They were full of lust and she wanted that lust to melt her down in the thinnest form of vapour. She did not move her hand any further as she wanted him to fill in the blanks.
Rudra sat still and dived deep into her eyes. He knew what she demanded and the adrenaline rush in his body hit him so hard that he couldn't do anything except whisper a few words in her eardrums "Let us fulfil each other's desire tonight".
Listening to this her smile widened. She stood up and signalled Rudra to show her the way to the hotel.